The Different Types of Flower Bouquets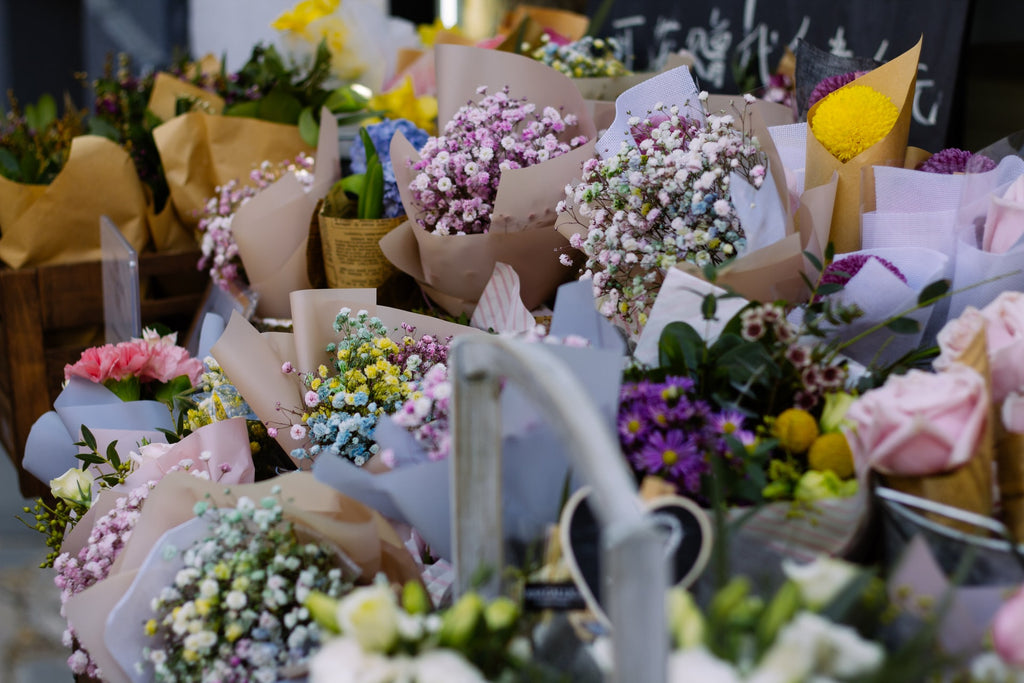 Flower arrangements can be beautiful and aromatic, especially when they combine a variety of flowers. And there are many types of bouquets. Some florists create arrangements based on the flower shapes, combining flat flowers and round flowers for the most appealing effects. Here's how florists classify flower types when constructing an arrangement.
1. Focus Flowers
Focus flowers, or statement flowers, are the belles of the ball in an arrangement. These flowers are the first ones people notice when they glance at an arrangement; they were chosen for their bright colors and distinctive features. They may not be the most delicate flowers in a bouquet, but they play an important role. Some arrangements consist only of focus flowers, like a sunflower and rose bouquet.
2. Line Flowers
Although line flowers aren't present in every arrangement, tall, noticeable blooms like Stargazer Lilies or Ranunculus add a different texture to various bouquet types. These flowers are called line flowers because they consist of one stem with many blossoms in a row. Certain line flowers, such as Liatris or Snapdragons, can also stand alone in a single stem bouquet.
3. Filler Flowers
Filler flowers are ornamental plants used to supplement a bouquet. Rose and carnations are a good pairing, as the rose's large head complements the smaller flower head of the carnation. However, filler flowers like the alstroemeria can stand alone as a bouquet without other types of flowers.
4. Greenery
Greenery is the foliage in a bouquet. The leaves support flowers and make the bouquet look more natural. Many types of greenery, like ribbon grass or hydrangea, add shape and texture to a bouquet.
Types of Flower Bouquet Styles
Here are some of the most common bouquet styles:
Round Bouquet Style
A round bouquet is a unique flower arrangement with distinctive flowers from all different types of flowers. Any flower or shape does not restrict it, and it's usually a burst of color and texture.
Hand-Tied Bouquets
Hand-tied bouquets contain stems and foliage wrapped with twine, ribbon, or other decorative accessories. Hand-tied bouquets are the most common and popular bouquets in the United States. They come in a variety of shapes, styles and colors.
Nosegays
Nosegays are bouquets that consist of many small flowers and greenery. They are usually round or half-round and have one flower in the middle. They were originally carried by ladies in the Renaissance period and were tied with ribbons. Today, bridesmaids usually carry a nosegay in an aisle bouquet or wedding ceremony bouquet.
Pomander Bouquets
A pomander bouquet is a bouquet that is created to look like a scented pomander ball. It was popular in the 16th century but had recently come back in the U.S. The pomander ball is usually made of citrus rind or apples, and it smells like flowers. Now, many brides carry pomander bouquets with real flowers in them as well. It's not uncommon to see pomander bouquets made of a real lavender or sunflower head.
Cascade Bouquets
A cascade bouquet is a bouquet that is supported by a cloth and sits on a base. They are a combination of an arrangement and a floral centerpiece. Cascade bouquets are often a focal point at a reception or wedding venue.
Conclusion
There are many flower arrangements out there. Bouquets can be anything from a simple vase of flowers to an elaborate centerpiece. If you want to take your flower arranging skills to the next level, learn about flower anatomy and how it affects the arrangement. 
April Flora is a family-owned business established in Thailand in 2016, offering you the best service and the most beautiful floral designs. Whether you want your flowers delivered on the same day in Bangkok or Phuket, we stand for customer-focused, personal approach to every order you place on our website. The April Flora team strives to provide easy, fast, reliable flowers delivery service to make your experience ordering flowers with us unforgettable! If you're looking for an affordable flower delivery service in Bangkok, we've got you covered! Order flowers with us today!